News: 28 June 2011, Message from the producer
Dear all,
We did it! It was about three years ago that we decided to start an endeavor that would take us to the five archipelagos that surround Africa: Zanzibar - Mauritius - Madagascar - São Tomé and Principe - Cape Verde During this time, the project went through many changes. We had to solve problems that we did not even know existed when starting with the films: logistical, technical, financial, legal, religious, medical, political - and last but not least weather problems. But - with your help - we solved them all. The results are five beautiful films that we can all be proud of. The German and French versions (43 min) of OVER THE ISLANDS OF AFRICA will premiere on German-French broadcaster ARTE from July 11th to 15th, each night at 7.30 pm. By then we should also be finished with the longer international versions. Each one of you was involved in some way or another, and we needed you all. I wish to thank all of you for your collaboration and dedication, for your patience, courage and commitment. Find some more information and content on our Facebook sites:
www.facebook.com/OverTheIslandsOfAfrica
www.facebook.com/filmquadrat.dok
... become a fan and spread the word!
Thanks a lot - Muito obrigado - Danke schön - Asante sana - Merci beaucoup - Misaotra betsaka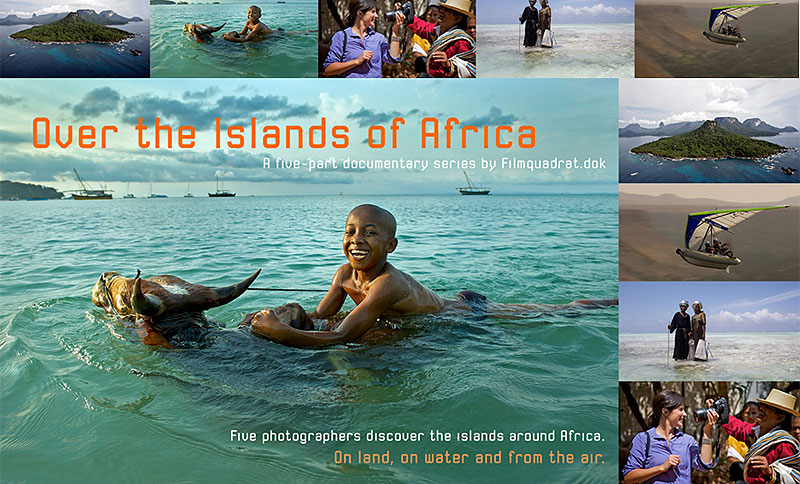 Home

Latest news
8 Jul 2011, Video clips
28 Jun 2011, Message from the producer
17 June 2011, Postscript
27 Sep 2010, Dar again
23 Sep 2010, Chumbe
20 Sep 2010, Zanzibar again
18 Sep 2010, Bullfight
17 Sep 2010, Kervan Saray
16 Sep 2010, Pemba
14 Sep 2010, Nungwe
12 Sep 2010, Popobawa
11 Sep 2010, Zanzibar
9 Sep 2010, Teddy Junior
26 Aug 2010, Ursula
26 July 2010, Home
17 Jul 2010, Just in time
15 Jul 2010, No wind
13 Jul 2010, Mindelo again
11 Jul 2010, Grogue
9 Jul 2010, Ponta do Sol
7 Jul 2010, Goal
5 Jul 2010, Independence day
4 Jul 2010, Wind
2 Jul 2010, Mindelo
31 Jun 2010, SS Tarrafal
30 Jun 2010, Tarrafal
27 Jun 2010, Praia
23 Jun 2010, Sal
20 Jun 2010, Bonding in Munich
29 Apr 2010, Lake Trasimene

Weather
Mauritius
Wind
Cape Verde
20Kt wind probability
Zanzibar

History
Talks & Presentations
RMH pilot CV