News: 20 Jun 2010, Bonding in Munich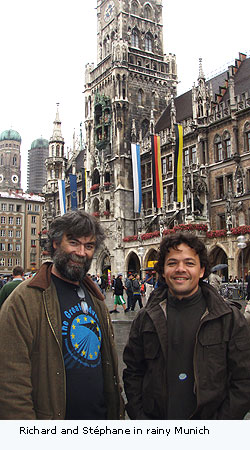 After the fiasco of going to the wrong airport to catch a flight a few weeks ago, (another story) yesterday I double checked before Nicky took me to Stansted for the Easyjet flight to Munich. A missing crew member caused a 45 minute delay but there's obviously an excellent south-easterly jetstream over Northern Europe because we got to Munich only ten minutes late.
Thomas Wartmann, one of the producers, and Christian Schidlowski, the Director, were there to meet me. Christian had just flown in from Berlin. As Thomas drove us through driving rain to his house, Christian described how he had only narrowly got his flight after a desperate race by taxi across Berlin from the wrong airport to the right one. So it's not just me who does such daft things then.... .
This was my first opportunity to meet Stéphane Ducandas my fellow Protagonist, from New Caledonia.
New Caledonia? Isn't that a french island somewhere in the Pacific beyond Papua New Guinea? What has that got to do with Africa? What IS this is all about? Well the best thing is to borrow some stuff from the official synopsis:
------------------------
MARITIME AFRICA takes us on a five-part journey to the islands around Africa, the so called Gates of Heaven. Photographer Stéphane Ducandas discovers the black continent's fascinating islands and shows us their beauty in unseen images from the air and from the ground.
For the New Caledonian it is the journey of a lifetime: Stéphane has lived on islands his entire life and his photographic work has always circled around those places in the sea. Now his biggest adventure yet has begun: photographing Africa's islands for a coffee table photo book. With him is world-renowned microlight pilot Richard Meredith-Hardy from the UK. Equipped only with Richard's FIB (flying inflatable boat), Stéphane's camera, a thirst for discovery and good measure of courage, the two adventurers set out...
------------------------
And so on; I think you get the idea, basially Stéphane and I are the two 'Protagonists' and Christian and his team are going to film us exploring these islands. How good is that? I think I'll try to keep well clear of the gates of heaven though.
Carolin Neubauer, our production assistant, has produced the most elaborate shooting schedule I have ever seen. It dictates our every move in the next month. I can tell you that on the morning of Saturday July 10th I will be required to do a scene at the deserted airport on Santo Antao with the FIB, the FIB camera mount, the intercom recorder, Stéphane and the airport superintendent. How well the weather will cooperate with all this planning is anyone's guess. but at this stage I'll give them 10 out of 10 for attention to detail.
So here we are in Munich, and I'm attempting a bit of bonding with my fellow Protagonist. There is one small catch, the whole series is supposed to be done in English but it turns out Stéphane doesn't seem to be quite as fluent as had been hoped. This has presented the producers with a bit of a dilemma, should everything actually be done in French? I can probably manage that (though the Acadamie Francaise would almost certainly beg to disagree), but of all the crew that are going to Cape Verde, only Christian and I speak any French at all. I also understand that when it comes to actually selling the series, French is not as commercially interesting as it would be in English, so no decision has been made yet. Everyone seems to be hoping he's just a bit shy.
Yesterday afternoon we all went into town, in the rain, apparently it's been raining for weeks here, to do some last minute shopping for things, and especially an English-French dictionary for Stéphane. About the only thing I wanted was a couple of carabiners, otherwise I'm pretty much prepared, most of my stuff went to Cape Verde last week by freight in two blue barrels. We found a dictionary, eventually.
Today everyone is fiddling around with stuff, including a brand new waterproof camera case which a test in the bath has revealed isn't quite as waterproof as it pretends to be. It has a faulty weld in a seam. Silicone has failed to fix it but there's some stuff in my barrels which might.
Thomas left just now for a seven day recce to Zanzibar. Amongst others I think he will be meeting Eve Jackson who we know from our Kilimanjaro expedition is an expert on finding the right permissions from Tanzania CAA, and Dalla Boocock, an old friend of my brother Barty, who has lived in Zanzibar for ten years or more and knows people who know people.
We're on the move early tomorrow morning, pickup at out hotel at 4.45 am precisely, to fly to Hannover where we meet the rest of the crew. At 10:40 all seven of us must check in for the TUIFLY flight to Sal in the Cape Verde islands, arriving there at 17:45.
My next dispatch should be from the Hotel Oásis Atlântico Belorizonte.
Home

Latest news
8 Jul 2011, Video clips
28 Jun 2011, Message from the producer
17 June 2011, Postscript
27 Sep 2010, Dar again
23 Sep 2010, Chumbe
20 Sep 2010, Zanzibar again
18 Sep 2010, Bullfight
17 Sep 2010, Kervan Saray
16 Sep 2010, Pemba
14 Sep 2010, Nungwe
12 Sep 2010, Popobawa
11 Sep 2010, Zanzibar
9 Sep 2010, Teddy Junior
26 Aug 2010, Ursula
26 July 2010, Home
17 Jul 2010, Just in time
15 Jul 2010, No wind
13 Jul 2010, Mindelo again
11 Jul 2010, Grogue
9 Jul 2010, Ponta do Sol
7 Jul 2010, Goal
5 Jul 2010, Independence day
4 Jul 2010, Wind
2 Jul 2010, Mindelo
31 Jun 2010, SS Tarrafal
30 Jun 2010, Tarrafal
27 Jun 2010, Praia
23 Jun 2010, Sal
20 Jun 2010, Bonding in Munich
29 Apr 2010, Lake Trasimene

Weather
Mauritius
Wind
Cape Verde
20Kt wind probability
Zanzibar

History
Talks & Presentations
RMH pilot CV